Drum Lessons from my studio in Rochester, Kent
A little about me and why I took up drum teaching
I took up teaching with the encouragement of my tutor the late great Frank King. There was an ulterior motive for having lessons as I wanted to turn pro but at the time I didn't know anyone, but Frank recommended me for a summer season and I began from there. Teachers then, as now get requests for recommending drummers for gigs, and it worked for me. I taught Mathew Letley and recommended him for gigs and he went on to back some big acts including his present employers Status Quo!!
What you can expect from a drum lesson with me
Having taught for many years, I know what works, and try to impart practical knowledge that you can use on gigs. My teaching style is based on tried and tested methods which will guarantee success, and if followed up with regular practise will help to make you a better drummer.
A good grounding in the rudiments both traditional and the newer variations/inventions of Steve Gadd, Dave Weckl, Vinnie Colluita and other top drummers is essential. I teach my students how to read drum music as it is a must if you want to be a professional, but useful to anyone anxious to improve, as you can take advantage of the mountain of books, magazines, dvd, pdf's with drum music in them. Plus of course play along material to put this into practice, and perhaps to introduce you to other styles of music you might not be familiar with.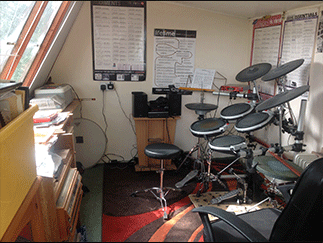 What facilities do I have in my drum studio in Rochester, Kent?
My music studio contains everything a drum teacher needs to give quality lessons.I have a Yamaha Dtxpress 3 Special recently been massively updated ,a ton of books, cd's, transcriptions, practice pads, computer, photocopier etc and you and me.
If you would like to get in touch with me about tuition then please see the Contact Page, if you need to know how to find my please Click Here