Bobby Cleall - Kent Based Drum Lessons /DrumTuition
Why you should choose me as your drum teacher.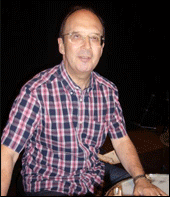 "The Glenn Miller Orchestra supported by the superb drumming of Bobby Cleall."
Big Band Magazine

I am a professional drummer and drum teacher, based in Rochester Kent, with many years of experience. As a drummer I have worked with recording artists such as Diana Ross and the Supremes , Meatloaf ,and Natalie Imbruglia and have also worked extensively with celebrities such as Bruce Forsyth and Bob Monkhouse to name but a few. In the jazz world there's Tony Coe,Kenny Baker ,Henry Lowther,Barry Cole and Paul Booth missing out loads I'm sure! I play and teach drums in many different styles ranging from Rock and Pop through to small and big band jazz (I currently hold the drum chair in the Glenn Miller Orchestra).
GIVE IT A TRY!! THE FIRST HALF HOUR IS FREE!!
"Perhaps the highlight of the show was half way through the second set when Bobby Cleall delivered a blistering solo"
The Scotsman
My drum lessons are based on tried and tested techniques, individually tailored to improve your flexibility and proficiency. I teach reading, technique, rudiments of drumming through to advanced techniques in all styles of drumming. As a teacher I have had great success in teaching and entering students for the Trinity Guildhall and Rock School grades from beginners to grade 8. Past students of mine have succeeded in making the transition to professional musicians, and in particular Matthew Letley has gone on to work with Status Quo, but many of my students just play for enjoyment. My drum studio is based in Rochester which is ideally placed for students in Medway Towns area and beyond.
My transcriptions are being used by aspiring drummers all over the world.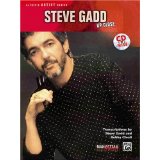 A few years ago I was approached by a publishing company to transcribe an educational DVD made by Steve Gadd, and from here Steve Gadd's 'Up Close' book was born. Steve was so impressed with the quality of the transcriptions he thanked me personally, and signed my copy of the book. The re-issued version of Up Close is by Alfred Publications (AP.MMBK0007CD) and is available on amazon.
I am currently in communication with California based drummer, Terry Branam who is editing my second Steve Gadd book of transcriptions from the 'In Session' dvd. If you don't know Terry's name, look at his transcriptions on Drummer World. They are fantastic .Which means that when the book is published it will be extremely accurate!!
As well as these two major books I have written a number of articles and transcriptions for Modern Drummer Magazine.
As a new site there is an offer on your first lesson.So,for drum lessons in Kent or around the Medway Towns,give me a call.