How I came to write a book on Steve Gadd
My Steve Gadd Story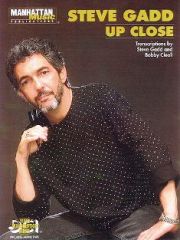 When I was playing at the Empire Leceister Square London, Steve Gadd was just starting to have an impact on the drumming world. Fellow drummer in the second band Tony Bourke ( now playing in the West End 'We Will Rock You') and I tried to figure out his playing, bearing in mind at that time nobody knew what he looked like, let alone seen him play.
I started transcribing some stuff from his many recordings and put them in a little booklet. A lot of drummers said they used it at the time.
Time went by and I sent this to some American publishers, but nothing happened until Steve recorded the first educational DVD. (Tape then)
The company (DCI then) now Warners, asked me to transcribe Steve's playing for a book to accompany the DVD.
Now this was long before any computer programmes like 'Transcribe' and such. All I had was the sound coming out of the TV speakers, a tape deck that slowed the drums down by a third, but made it sound like sludge! It took a long time!!!! It was even a longer time for the very busy Gadd to proof read it. When he did, it came back with hardly any corrections!
I met Steve in 1992 for a two hour chat in his hotel, while he was here touring with Paul Simon.( see photos) He was very grateful for me taking the time and trouble to do it. I also did the same for his second DVD 'In Session'. This was 30 minutes longer and much more complex.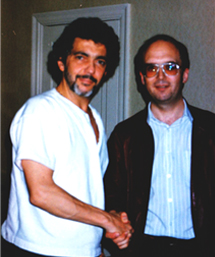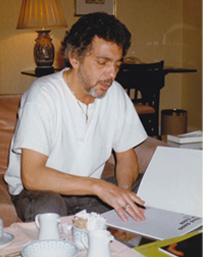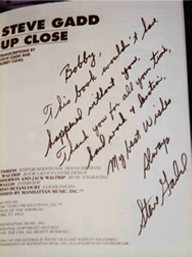 For reasons I won't go into, it wasn't officially published. I had my hand copied transcriptions printed into a book with a limited print run. I didn't want all this work going to waste.
Please see an update to this situation on my home page.